Three Excellent Benefits Of Patio Washing
A lovely patio is always a star attraction at any home. We live in Florida, after all, and the patio is where we like to go to sip our sweet tea, chat with our loved ones, fire up the barbeque, or just chill out and listen to the cicadas sing. Make no mistake – if you're a homeowner – it's always a plus to have a patio! But let's pause the music for a second and consider what happens to our patios over time and why we need to give them their due upkeep every now and again.
Just like everything under the sun, patios are no exception to getting dirty and feeling the effects of the Florida weather. We're constantly exposed to rain in the Lakeland area, strong gusts of wind, and powerful ultraviolet rays. This means while you're hunkering down inside watching the latest episode of Swamp People, your patio is getting battered left, right, and center. Luckily with the help of the pressure washing pros at WASHERZ Exterior Cleaning, your patios can get the TLC they need so you can continue to relax in them.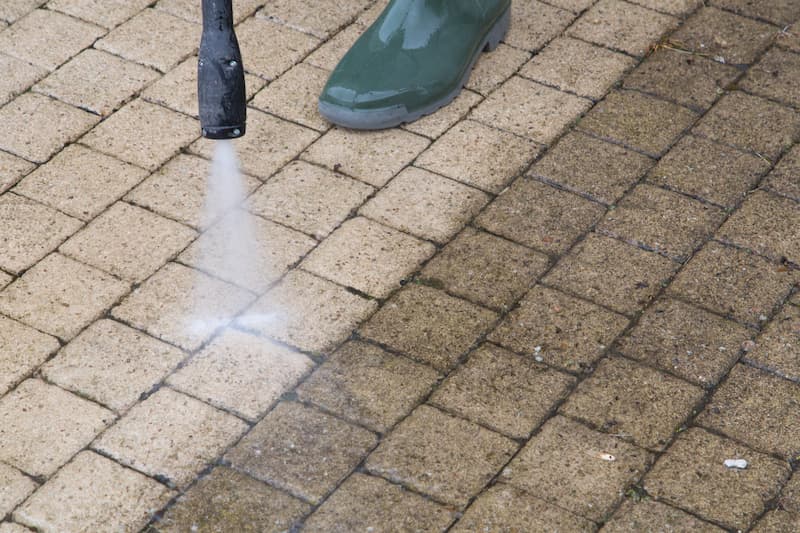 Patio Washing Keeps Your Patios Safe And Healthy
Imagine a scenario where you're bringing out fresh lemonade to your Grandma and Pop-Pops, who are waiting for you on the patio on a nice summer day. You step through the back door, step foot on the patio floor, turn to them with a grin but then slip on some mildew, causing your refreshing beverages to fly in the air and your rear end to land straight on the hard surface below.
The sad truth about patios is that they eventually get covered with slippery contaminants such as mildew and algae, which can cause slip and fall injuries to you or your guests. The patio is also prone to collecting germs and other harmful microbes that may lead to illness. Professional pressure washing eliminates these substances and health hazards so you can keep avoiding doctor bills and continue enjoying your outdoor living space.
You'll Spend More Time Outdoors With A Clean Patio
It's a lot easier to spend time on your patio when it's sparkling clean. When it's covered with algae and grime? Not so much. Patio washing will give your patio a thorough, professional wash-up that will restore its beauty and eliminate any foul odors. If you're keen to catch up on fresh air and vitamin d, have a clean patio to relax on will undoubtedly help!
Patio Washing Prevents Costly Damages
One more thing that homeowners everywhere need to consider is that dirt, stains, and grime on any surface means more than just eyesores. Even if you can live with all the blemishes that spread out in your patio, that doesn't mean your surfaces can. Over time these substances start to take their toll on your patio, and damages such as cracks, chips, and color fading will begin. Patio washing is the maintenance your patio needs to keep from crumbling apart and costing you expensive repair bills.
Professional patio washing will extend the life of your patio and allow you to enjoy it more. For Lakeland residents who are in need of professional patio washing, you can always count on the pros at WASHERZ Exterior Cleaning. Give our experts a call for a free estimate at 863-337-8236.
Check us out on Facebook – https://www.facebook.com/WASHERZec
Contact us – https://washerzexterior.com/contact-us/
Services – https://washerzexterior.com/pressure-washing-company/
For more information about Washerz Exterior Cleaning or to get a free quote for power washing services, visit our website www.washerzexterior.com or call us at 863-337-8236. We strive to be the best power washing service in Washerz Exterior Cleaning. You can trust Washerz Exterior Cleaning to always provide satisfaction guaranteed power washing services.

CALL TODAY FOR QUALITY SOFT WASHING & PRESSURE WASHING SERVICES IN AUBURNDALE AND THE SURROUNDING AREAS!