Why WASHERZ Exterior Cleaning?
TOP-RATED DRIVEWAY WASHING IN LAKELAND!
At WASHERZ Exterior Cleaning, we know that your driveway is more than just a path to your home; it's an essential part of your property's curb appeal and functionality. Our driveway washing services in Lakeland, Florida, are dedicated to ensuring that your driveway not only looks pristine but also stands the test of time. Driveways are exposed to constant wear and tear from vehicles, weather, and environmental factors. That's why our services are tailored to address stubborn stains, oil spots, mold, and mildew, ensuring that your driveway maintains its durability and attractiveness.
What sets us apart is our unwavering commitment to customer satisfaction. We take pride in going the extra mile to provide exceptional driveway washing services that exceed your expectations. When you choose WASHERZ Exterior Cleaning, you're choosing a team dedicated to preserving the beauty and integrity of your Lakeland home. Let us transform your driveway into an inviting and functional space. Contact us today to schedule your driveway washing service and experience the difference that professional care can make for your property.
Your Top Choice for Driveway Washing
Driveway washing is a critical maintenance task that not only enhances the curb appeal of your property but also ensures the longevity and safety of your driveway. Over time, driveways accumulate dirt, grime, oil stains, mold, mildew, and other contaminants that can detract from their appearance and even lead to structural damage if left unattended. Regular driveway washing is the solution to these issues, as it not only revitalizes the aesthetics but also safeguards the functionality and durability of this essential part of your home.
Effective driveway washing involves the use of specialized equipment, eco-friendly cleaning solutions, and expert techniques to remove stains, eliminate mold and mildew growth, and restore the original luster of the surface. Beyond the visual benefits, driveway washing also contributes to a safer environment by reducing the risk of slips and falls on slippery or moss-covered surfaces. It's an investment that not only beautifies your property but also protects your family and visitors from potential accidents. So, whether you're looking to boost your home's curb appeal or ensure the safety and longevity of your driveway, regular washing is an essential step in your property maintenance routine.
Driveway Washing For Well-Kept Lakeland Properties
Are you tired of rolling in on a driveway that's covered with stains, scuffs, and spots? If you're in the Lakeland area, the driveway washing experts at WASHERZ Exterior Cleaning have the service for you! Our professional driveway washing treatment will bring your driveway back to a spotless state and give it the protection it needs so it can continue to serve you as your own private path to paradise!
WASHERZ Exterior Cleaning has been pressure washing in Lakeland for years, and our team members consider themselves to be proud members of the community here. We go above and beyond to ensure your exterior surfaces get the professional treatment you deserve, and we're unparalleled when it comes to customer service and care for your property. The investment you've made into your home means you can't afford to trust it to amateur pressure washing teams, so get the results you're entitled to and trust only the professionals at WASHERZ Exterior Cleaning.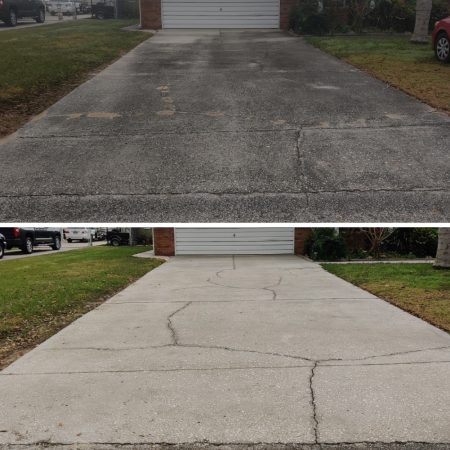 Superior Care For Your Driveway
Driveways are one of the most important outdoor surfaces for any home. They provide us with many uses, but driveways also tend to get the filthiest the quickest. It happens to every homeowner: one day, there's a small stain on your driveway, and then over the next few weeks, it's completely covered in dirt and other muck. Driveway washing by WASHERZ Exterior Cleaning is the cure you need for a painfully filthy driveway, and our pressure washing service will make this all-important surface look good as new!
Our driveway washing technicians will erase layers of grime and stains from your driveway using our industrial-grade surface cleaning technology. Our powerful, eco-friendly cleaning solutions are perfect for washing away eyesores but safe enough that they won't harm your landscaping or lawn grass. With driveway washing from WASHERZ Exterior Cleaning, expect your driveway to:
Look better than ever and enhance the overall visual appeal of your home
Be free from slip and fall hazards such as algae
Enjoy an extended lifespan thanks to the removal of corrosive contaminants
Disinfected from our pro pressure washing solutions
Leave the stress and the mess of driveway cleaning to our pros, and you'll never be disappointed! For expert driveway cleaning in Lakeland, call WASHERZ Exterior Cleaning at 863-337-8236.
Having a parking pad at your home is always a convenient addition, but keeping it clean can be a chore. That's not the case with WASHERZ Exterior Cleaning around! Call us for professional parking pad cleaning that will revitalize your parking pad and not empty your wallet at the same time. Our specialists have the expertise and gear needed to clean all types of parking pad materials, and when you rely on us, you can be sure to love the results!
Do you want to pair driveway washing with one of our other professional services? WASHERZ Exterior Cleaning also specializes in sidewalk cleaning, house washing, window cleaning, and more! Call our team today and ask for a free estimate for any of our services!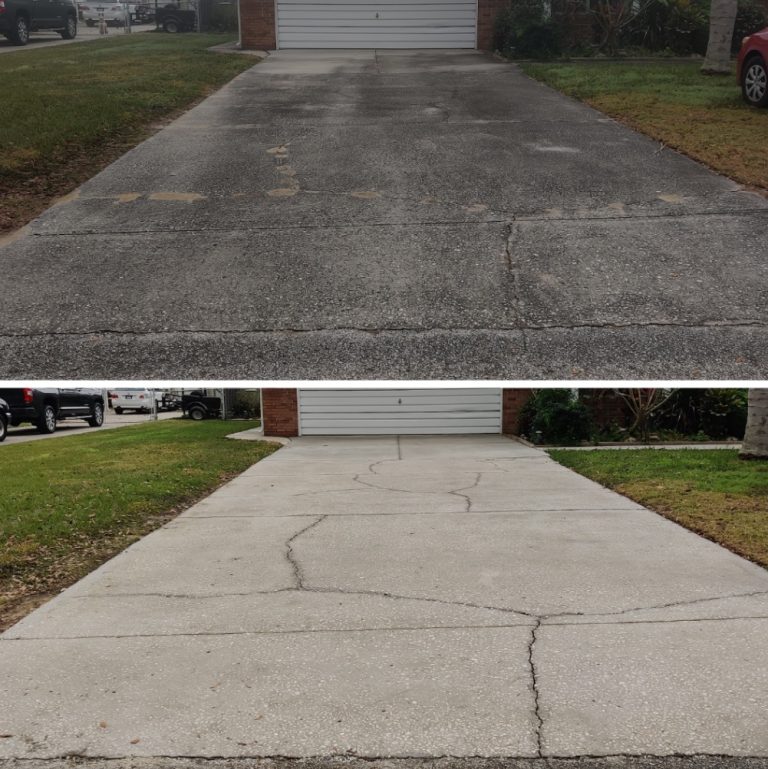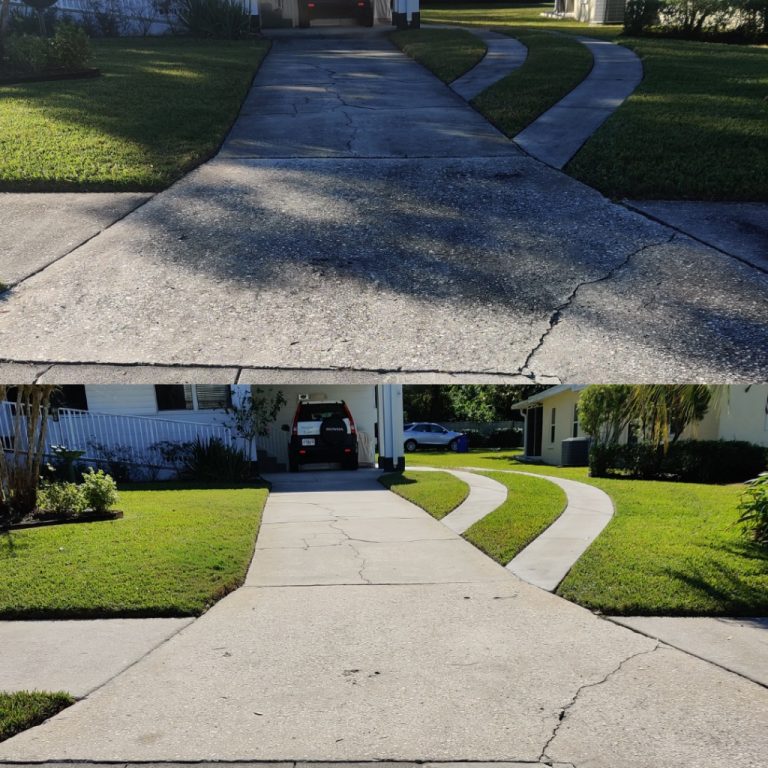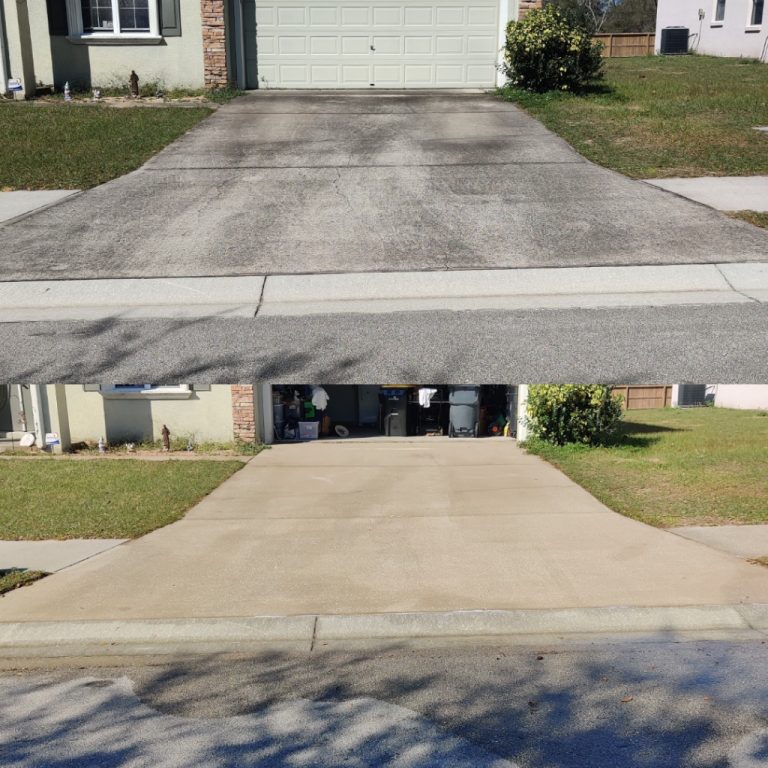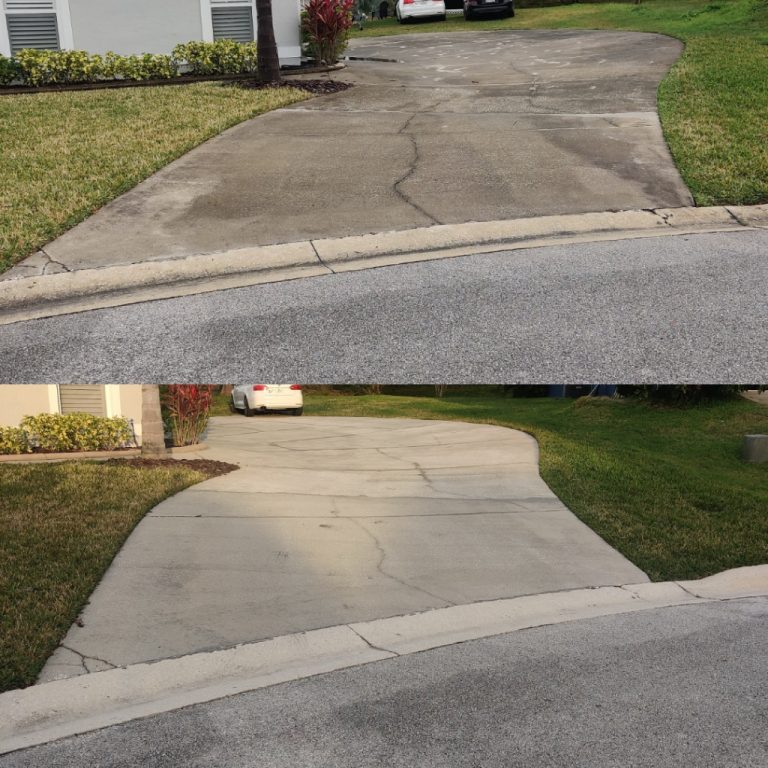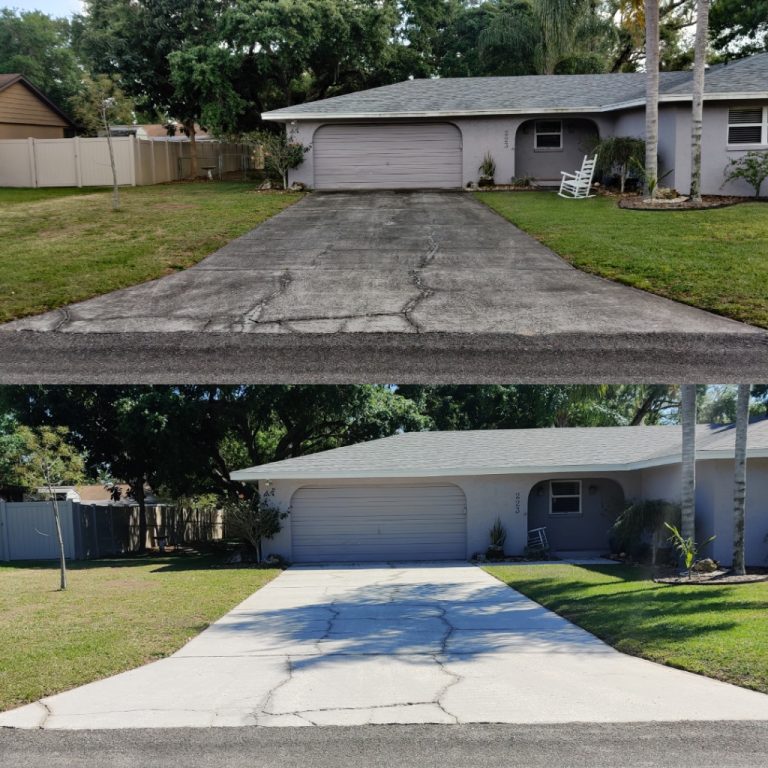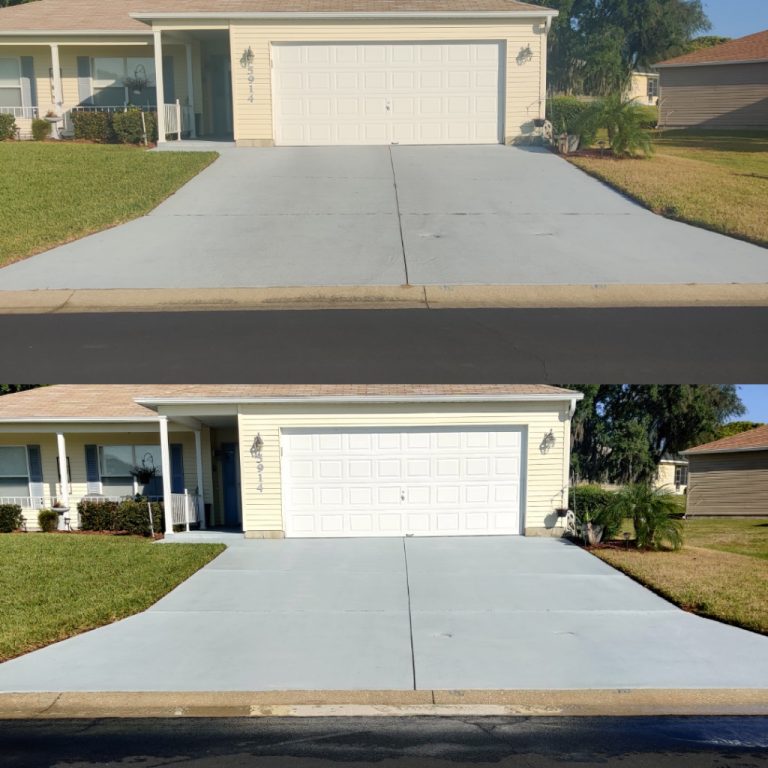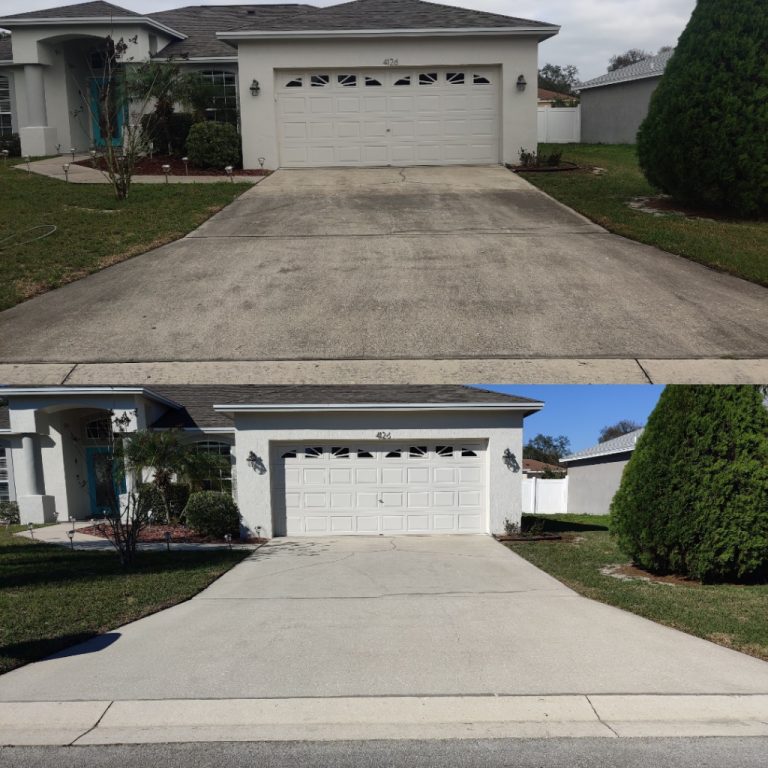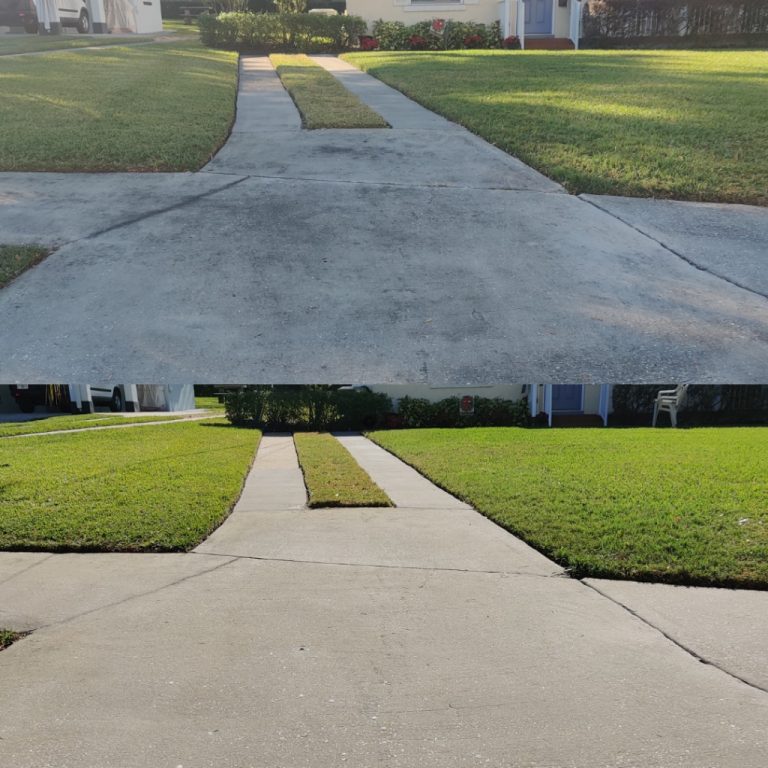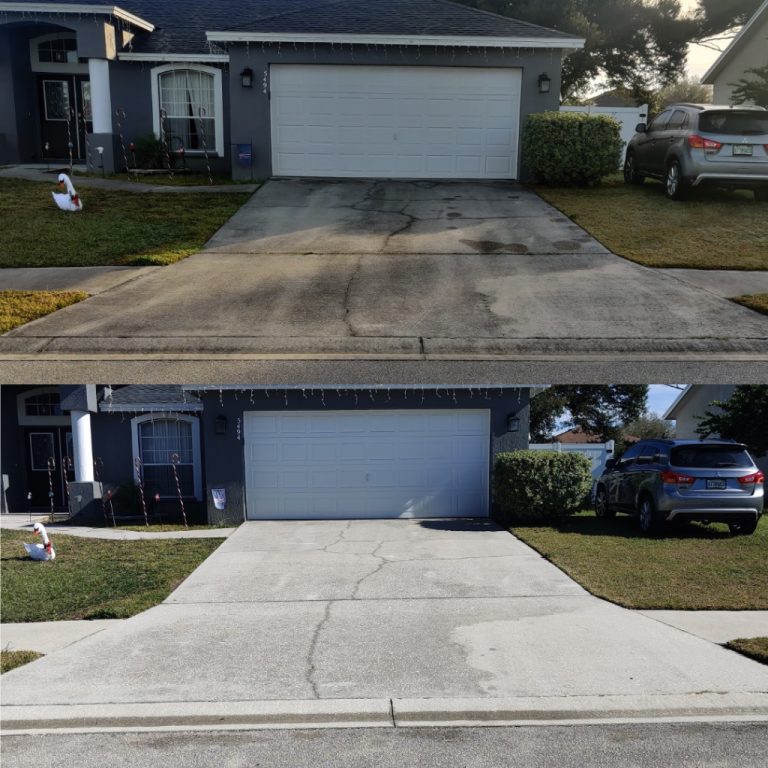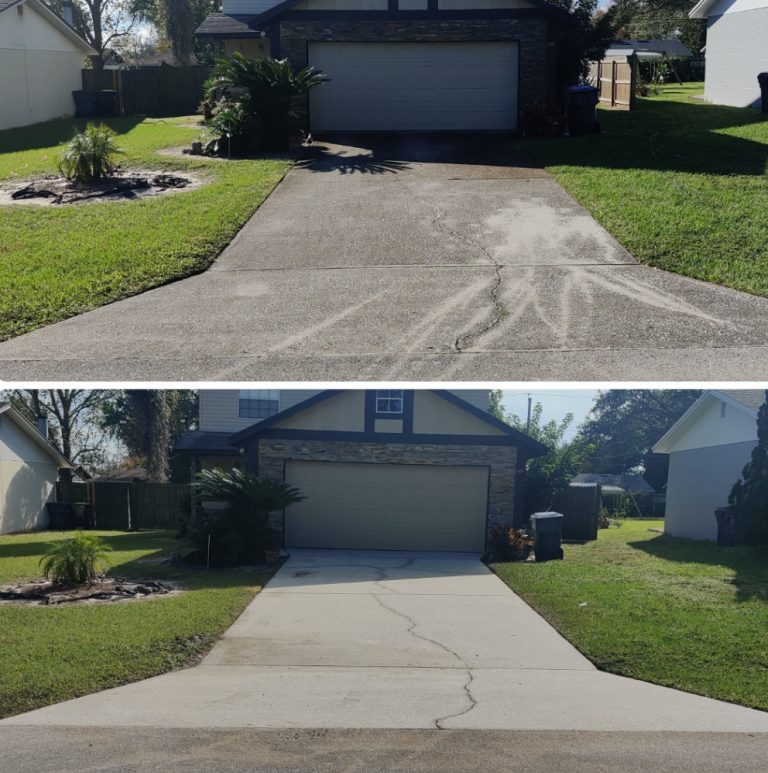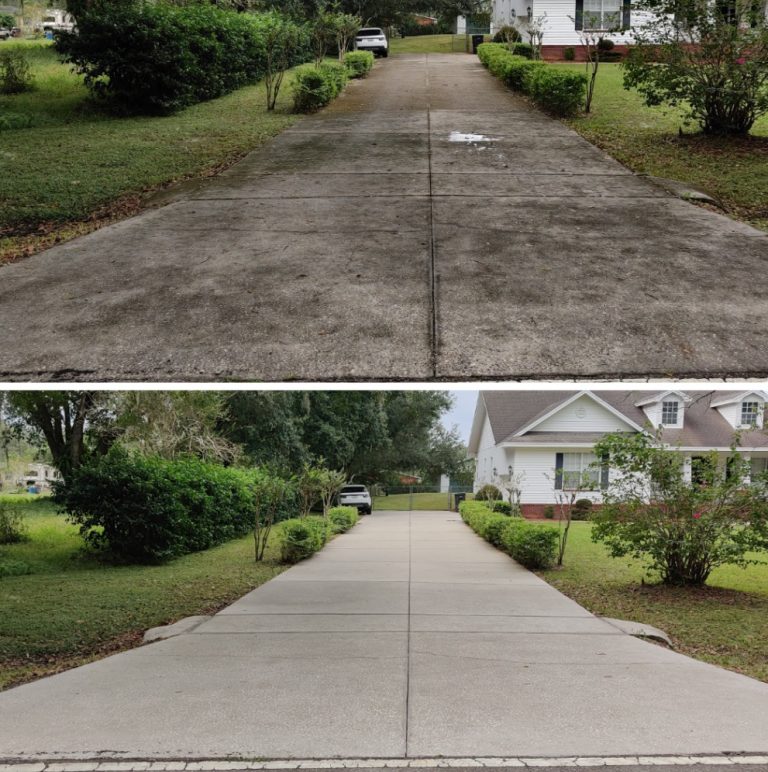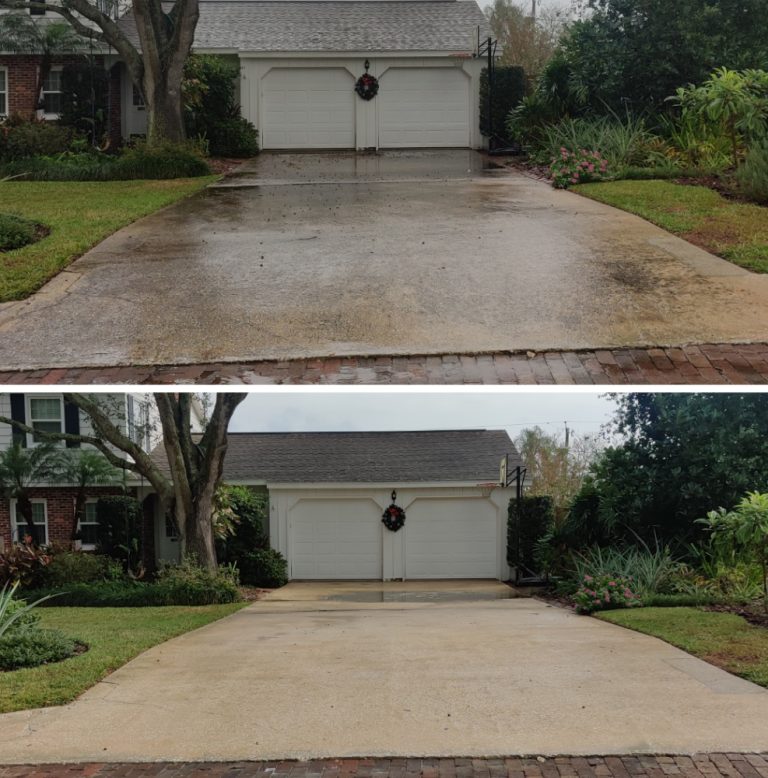 Frequently Asked Questions - Answered By WASHERZ Exterior Cleaning
Elevate your home's curb appeal and extend the life of your driveway with WASHERZ Exterior Cleaning's professional driveway washing services. Say goodbye to unsightly stains, oil spots, and mold growth, and hello to a pristine and welcoming entrance. Contact us today to schedule your driveway washing service and experience the transformation that clean, well-maintained concrete can bring to your property. Don't wait – choose WASHERZ Exterior Cleaning for a driveway that shines. Click below or call us now to give your driveway the care it deserves.
Yes, driveway washing is effective at removing mold and mildew from surfaces. These contaminants not only detract from your driveway's appearance but can also pose health risks and accelerate surface deterioration. Professional driveway washing companies use high-pressure water and specialized cleaning solutions to eliminate mold and mildew, restoring your driveway to a clean and safe condition.
Sealing your driveway after washing is not always necessary, but it can provide additional protection and prolong the cleanliness of the surface. Sealants create a protective barrier against future staining, oil penetration, and water damage. The frequency of sealing may depend on factors like the type of sealant used and the level of traffic on your driveway. Professional driveway washing companies often offer sealing as an additional service and can advise you on the best approach for your specific needs.
The time required to complete driveway washing depends on several factors, including the size of your driveway, the extent of staining or mold growth, and the equipment used. In general, smaller driveways may take as little as one to two hours, while larger or heavily stained driveways could take several hours to complete. Factors like drying time and weather conditions can also affect the overall duration. Professional driveway washing companies will provide you with an estimated timeframe based on your specific driveway's characteristics during the quoting process.
Driveway washing is essential for several reasons. Firstly, it enhances your property's curb appeal by removing unsightly stains, dirt, oil spots, and mold growth that accumulate over time. Secondly, it preserves the longevity and structural integrity of your driveway's surface by preventing damage and deterioration caused by contaminants. Thirdly, clean driveways contribute to a safer environment by reducing slip and fall hazards associated with slippery or moss-covered surfaces. Additionally, regular washing can prevent costly repairs and replacements in the long run, saving you money.
At WASHERZ Exterior Cleaning, we take immense pride in being the local solution for top-tier driveway washing services in the picturesque city of Lakeland, Florida. Our roots are deeply embedded in this charming community, and as a locally-owned business, we hold a special connection with our neighbors and fellow residents. Our commitment to Lakeland extends beyond just providing outstanding driveway washing services; it's about enhancing the beauty and functionality of our hometown's diverse properties. We're not just a faceless corporation; we're your friends, neighbors, and fellow Lakeland residents who genuinely care about preserving the allure and integrity of Lakeland's homes. Our expertise is precisely tuned to address the unique challenges presented by Lakeland's climate and environment, ensuring that your driveway receives the meticulous care it deserves. When you choose WASHERZ Exterior Cleaning for your driveway washing needs, you're choosing a team that's deeply invested in the well-being and aesthetics of your Lakeland home.
Experience the difference with WASHERZ Exterior Cleaning and transform your driveway into a clean, welcoming entryway. Contact us today to schedule your driveway washing service and discover the local care and expertise that sets us apart. Your home deserves the best – choose WASHERZ Exterior Cleaning for a driveway that gleams. Don't hesitate; to reach out to us now to discuss your driveway cleaning requirements and let us enhance the beauty of your Lakeland property.
Boosts your home's attractiveness with a clean, well-maintained driveway.
Reduces slip hazards by removing moss, mildew, and oil stains.
Prevents costly repairs or replacements in the long term.
CALL TODAY FOR QUALITY DRIVEWAY WASHING SERVICES IN LAKELAND AND THE SURROUNDING AREAS!