Why WASHERZ Exterior Cleaning?
TOP-RATED WINDOW CLEANING IN LAKELAND!
At WASHERZ Exterior Cleaning, we understand that your windows are not just a view to the outside world; they are a reflection of your home's beauty and your commitment to maintaining a clean and inviting living space. Our window cleaning services in the picturesque city of Lakeland, Florida, are designed to help you achieve and preserve that clarity and sparkle your home deserves. We tailor our window cleaning services to meet the unique needs of your property, whether you have tall, hard-to-reach windows, delicate stained glass, or large panoramic windows.
We take great pride in providing a thorough, streak-free clean, ensuring that every window in your home shines brilliantly. We understand that clean windows not only enhance your home's aesthetics but also contribute to a healthier living environment. When you choose WASHERZ Exterior Cleaning for your window cleaning needs, you're choosing a team dedicated to ensuring that your Lakeland home looks its best. Let us bring back the sparkle to your windows and the brightness to your living space. Contact us today to schedule your window cleaning service and experience the transformation we can bring to your home.
Your Top Choice for Window Cleaning
Window cleaning is more than just improving the aesthetics of your home; it's about enhancing your quality of life. Clean, crystal-clear windows invite natural light, create a sense of spaciousness, and connect you with the world outside. Regular window cleaning also contributes to a healthier indoor environment. Clean windows mean less indoor allergen buildup, resulting in improved air quality. Additionally, it's a maintenance task that can extend the lifespan of your windows.
By removing contaminants and preventing potential damage, such as etching caused by hard water stains or corrosive elements, window cleaning helps preserve your investment in your home. Whether you're looking to improve your home's curb appeal, create a brighter and more inviting living space, or protect the longevity of your windows, regular window cleaning is a simple yet highly rewarding task. The benefits go beyond cleanliness – they encompass a more comfortable and healthier living environment that enhances your overall well-being.
Window Cleaning For Like-New Lakeland Exterior Glass
Take a crystal clear look through your windows with the help of the window cleaning experts at WASHERZ Exterior Cleaning! We're honored to be Lakeland's first choice for top-rated pressure washing services in the area, and it's our goal always to give our customers the spectacular results that they deserve!
WASHERZ Exterior Cleaning is your trusted source for first-class pressure washing in Lakeland. Our pros know how to clean a wide variety of exterior surfaces expertly, and there's no spot or stain that's too stubborn for us! We want you to fall in love with your home all over again, and that's why our specialists use only the industry's leading equipment and cleaning solutions for every service we provide. When you depend on WASHERZ Exterior Cleaning, you'll be getting the best treatment for your surfaces available on the market today.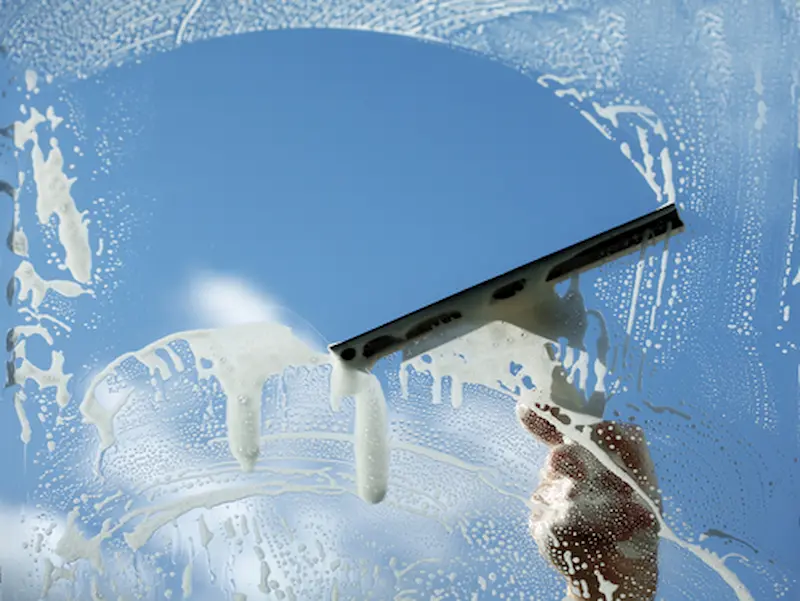 If your windows get covered with streaks, smudges, and spots, they're not going to do your curb appeal any favor, and your view of the beautiful outdoors will suffer as well. Amateur or DIY window cleaning often relies on cleaning agents of poor quality that leave behind a residue, making it easier for particles to reattach to your windows. Luckily, WASHERZ Exterior Cleaning has the solution for getting your windows more beautiful than ever and for keeping them that way.
Our window cleaning experts take the time and care to give your exterior glass a refreshing clean that will make a night and day difference for your home as well as your eyesight. Our soft washing method of window cleaning is perfect for removing blemishes and unhealthy substances such as pollen, algae, mold, and mildew. Soft washing doesn't rely on high water pressure as regular pressure washing does, so in turn, you won't have to worry about damages occurring such as:
Cracked Glass
Destruction of weather sealant
We Have Your Exterior Cleaning Solutions
 Keep in mind that window cleaning is far from all that we do! WASHERZ Exterior Cleaning has a wide variety of professional pressure washing services available for our customers in the Lakeland area. We'd be delighted to serve you with the best exterior cleaning treatments available and at a price that you can afford! Call our experts for such outstanding services such as:
Frequently Asked Questions - Answered By WASHERZ Exterior Cleaning
Discover the transformative difference that clean, crystal-clear windows can make in your Lakeland home with WASHERZ Exterior Cleaning's expert window cleaning services. Say goodbye to streaks, dirt, and obstructed views, and hello to a brighter, more inviting living space. Contact us today to schedule your window cleaning service and experience the clarity and brilliance your home deserves. Don't wait – choose WASHERZ Exterior Cleaning for a window cleaning service that will leave your home shining. Click below or call us now to let the light back into your Lakeland life.
Professional window cleaning is vital for several reasons. Firstly, it ensures a thorough and streak-free clean that is often challenging to achieve with DIY methods. Secondly, experts have access to the right tools, such as specialized squeegees and eco-friendly cleaning solutions, which result in a pristine finish. Thirdly, professional cleaners are trained to work efficiently and safely, especially for windows in high or hard-to-reach places. Additionally, regular professional cleaning extends the lifespan of your windows by preventing the buildup of contaminants that can lead to glass deterioration.
The frequency of professional window cleaning depends on various factors, including your location, the surrounding environment, and personal preferences. However, most homeowners find that scheduling window cleaning services every six months to a year is sufficient to maintain a clean and clear appearance. Homes in particularly dusty or coastal areas may benefit from more frequent cleaning. Ultimately, the frequency of cleaning should be tailored to your specific needs and the condition of your windows.
Environmentally friendly window cleaning solutions offer several advantages. They are safe for your family, pets, and the environment, as they do not contain harsh chemicals or toxins. These solutions effectively remove dirt and grime without harming the ecosystem, ensuring a healthier indoor environment. Additionally, eco-friendly products are biodegradable, reducing their impact on the environment. By choosing environmentally friendly window cleaning solutions, you not only maintain the cleanliness of your home but also contribute to a more sustainable and eco-conscious lifestyle.
Yes, professional window cleaners have access to specialized solutions and techniques to address hard water stains effectively. While some stubborn stains may require multiple treatments, professional experts can significantly improve the appearance of your windows and remove most hard water stains.
At WASHERZ Exterior Cleaning, we take immense pride in being the go-to, locally-owned solution for top-notch window cleaning services in the beautiful city of Lakeland, Florida. Our roots run deep in this charming community, and as a locally-owned business, we cherish the connection we share with our neighbors and fellow residents. Our commitment to Lakeland goes beyond just providing exceptional window cleaning services; it's about contributing to the radiant beauty of our diverse properties.
What sets us apart at WASHERZ Exterior Cleaning is our genuine dedication to our community. We're not just a faceless corporation; we're your friends, neighbors, and local professionals who truly care about preserving the charm and allure of Lakeland's homes. Our expertise is finely tuned to address the unique challenges posed by Lakeland's climate and environment, ensuring your windows receive the meticulous care they deserve. When you choose WASHERZ Exterior Cleaning for your window cleaning needs, you're choosing a team dedicated to ensuring that your Lakeland home looks its absolute best.
Experience the difference with WASHERZ Exterior Cleaning and enjoy the clarity and brilliance of professionally cleaned windows. Contact us today to schedule your window cleaning service and discover the local care and expertise that sets us apart. Your home deserves the best – choose WASHERZ Exterior Cleaning for a brighter, more inviting Lakeland. Don't hesitate; to reach out to us now to discuss your window cleaning requirements and let us illuminate your Lakeland life.
Sparkling windows improve your home's appearance.
Regular cleaning prevents damage, extending the life of your windows.
Clean windows boost curb appeal and increase your home's overall value.
CALL TODAY FOR QUALITY WINDOW CLEANING SERVICES IN LAKELAND AND THE SURROUNDING AREAS!