Why WASHERZ Exterior Cleaning?
TOP-RATED GUTTER CLEANING IN LAKELAND!
At WASHERZ Exterior Cleaning, we understand that a well-maintained gutter system is crucial to the overall health and appearance of your Lakeland home. That's why we take immense pride in offering top-notch gutter cleaning services that ensure your gutters are functioning at their best. When you choose us, you're choosing a partner dedicated to preserving the integrity of your property.
We prioritize safety and efficiency in every gutter cleaning job we undertake. Our team employs the latest equipment and methods to ensure a thorough and hassle-free cleaning process. Regular gutter maintenance is essential in preventing costly repairs down the line. So, if you're looking for reliable and professional gutter cleaning services in Lakeland, WASHERZ Exterior Cleaning is here to help. Let us safeguard your investment and keep your property looking its best – contact us today to schedule your gutter cleaning service.
Your Top Choice for Gutter Cleaning
Gutters are designed to channel rainwater away from your roof and foundation, preventing water damage, mold growth, and structural issues. However, over time, leaves, twigs, dirt, and debris can accumulate in your gutters, obstructing the flow of water. When this happens, your gutters can become ineffective, leading to overflowing water, roof leaks, and potential foundation damage.This is where professional gutter cleaning services come into play. At WASHERZ Exterior Cleaning, we specialize in ensuring your gutter system functions optimally year-round.
We take a proactive approach to gutter maintenance, helping you avoid costly repairs and potential water damage to your home. Our commitment to quality and excellence means you can trust us to deliver a thorough and efficient gutter cleaning service that keeps your home safe and looking its best. Don't wait until water damage becomes a costly issue – schedule your gutter cleaning service with us today and experience the peace of mind that comes with a clean and well-maintained gutter system.
Gutter Cleaning For Free-Flowing, Great Looking Lakeland Gutters
Do you want to ensure your Lakeland gutters function at their optimum capacity so they can continue to protect your home from costly water damage? Then get them cleaned the professional way with a gutter cleaning treatment from WASHERZ Exterior Cleaning!
WASHERZ Exterior Cleaning is the company you can always trust for professional pressure washing in Lakeland, and when it comes to gutter cleaning– we're your ace in the pocket! Our experienced technicians are committed to giving any and all exterior surfaces the deep cleaning treatment they need so they can work their best and look spectacular for years to come. If you're ever looking for reliable pressure washing and exterior cleaning, don't waste one second dealing with amateurs and hustlers who are out looking to cut corners and leave the job unfinished. Make the first choice the best choice and call WASHERZ Exterior Cleaning for professional pressure washing and gutter cleaning in Lakeland.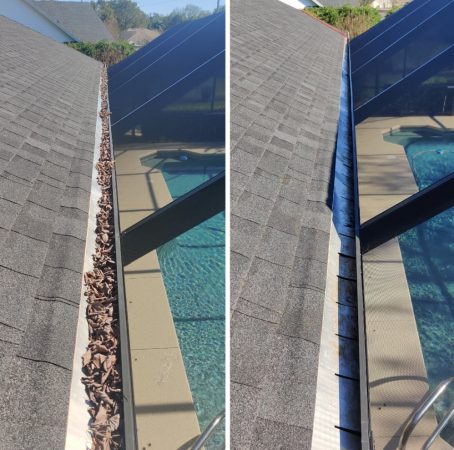 The Benefits Of Our Professional Gutter Cleaning Service
Here in Lakeland and the surrounding areas, you can bet that each and every year, we're going to get plenty of rain and strong gusts of wind. There's certainly nothing wrong with that, but for homeowners, that wind and rain will mean plenty of falling debris such as leaves, twigs, pollen, and acorns filling up your gutters.
Gutters are your home's main line of defense against flooding and high-priced water damage, and when they're stuffed full of vegetation and other gunk, they allow water to spill over everywhere instead of safely out of the downspouts. With professional gutter cleaning by WASHERZ Exterior Cleaning, you can rest and relax, knowing your gutters will be thoroughly washed out free of any detritus that can cause you trouble. Some of the many benefits of relying on our gutter cleaning team are:
You won't have to worry about buying or renting any equipment. Our pros will bring everything we need to complete the job safely and securely.
You won't have to get your hands dirty or risk injury to yourself or your property. Let our pros handle your gutter cleaning, and we'll do all the dirty work so you won't have to deal with any mess or worry about damages.
Gutter cleaning is a fantastic way to reduce pests on your property. Clogged-up gutters give safe harbor to rodents and pesky insects, but our pros will make sure they have nowhere safe to hide.
Our downspout washing system will ensure that any hidden grime or debris is safely rinsed out. You can trust our gutter cleaning pros to give your gutters a complete clean.
Ready to save yourself the hassle of gutter cleaning yourself? Call WASHERZ Exterior Cleaning, and we'll take care of all the hard work for you! And remember, gutter cleaning isn't all we do. We also offer many pressure washing services that protect and beautify your surfaces, such as roof cleaning, house washing, and more!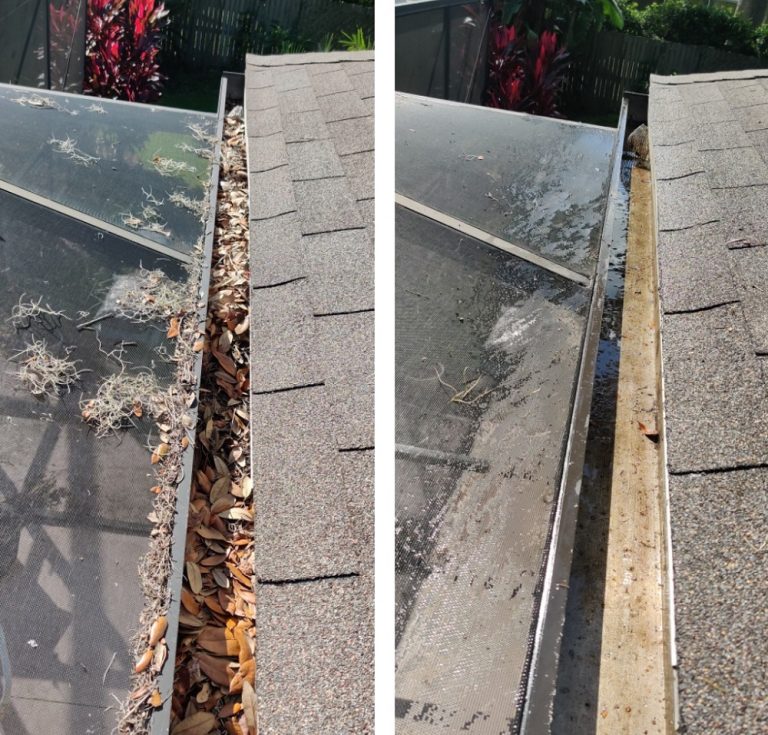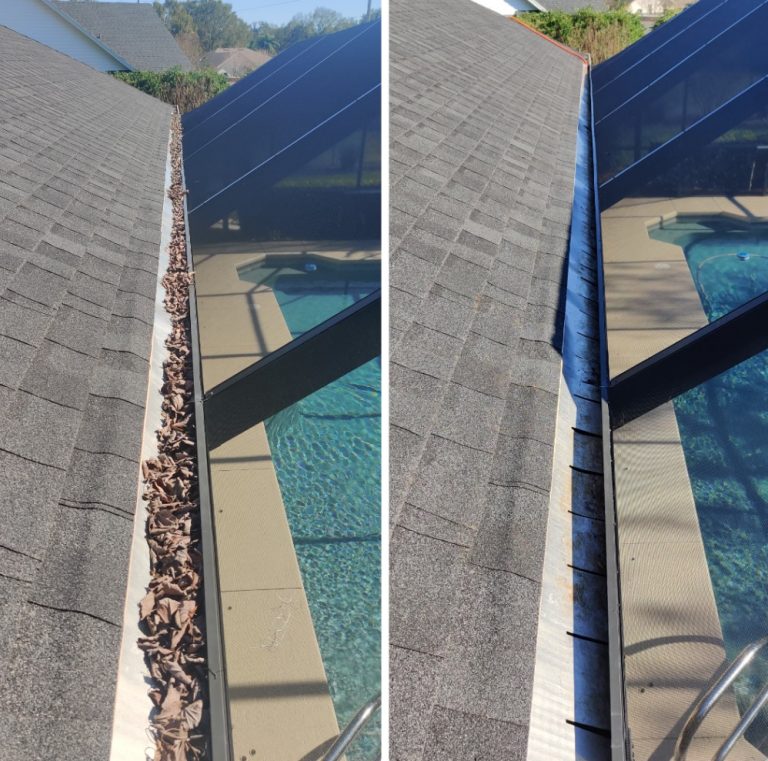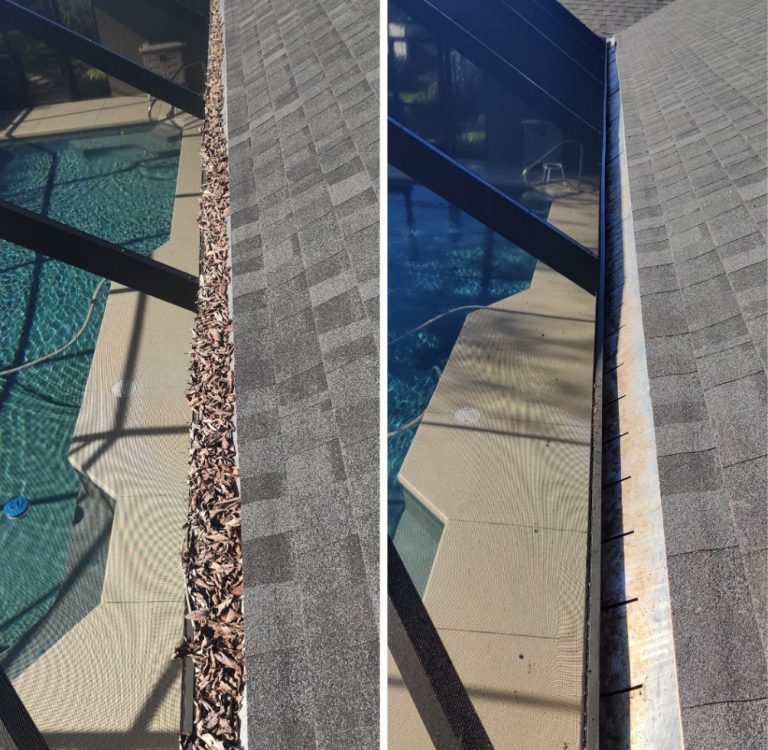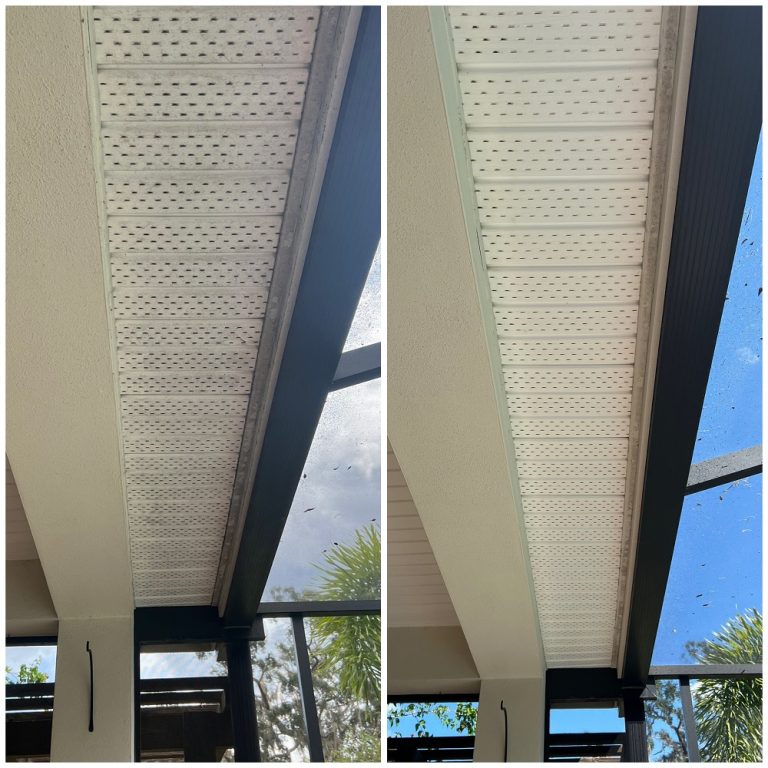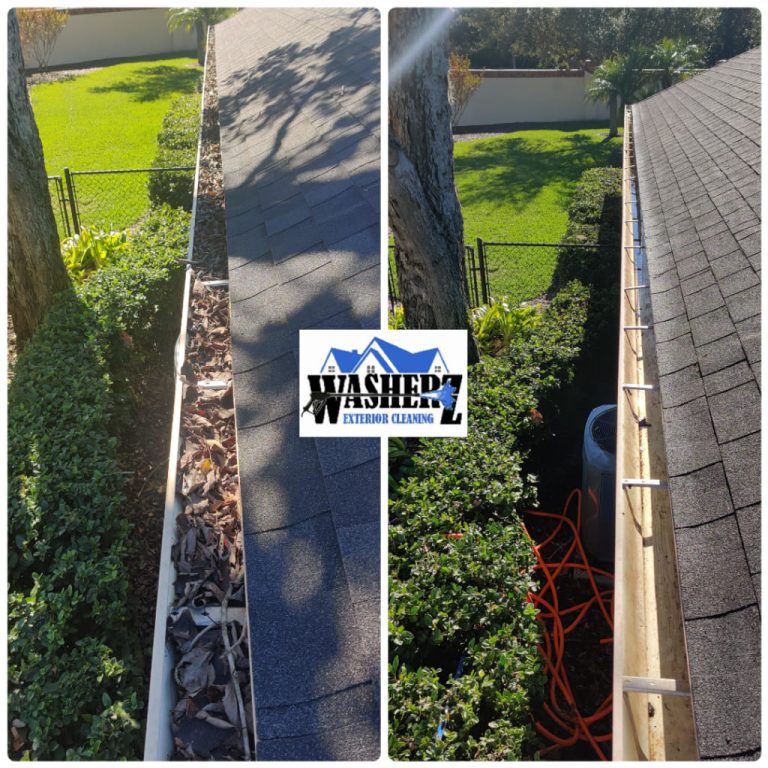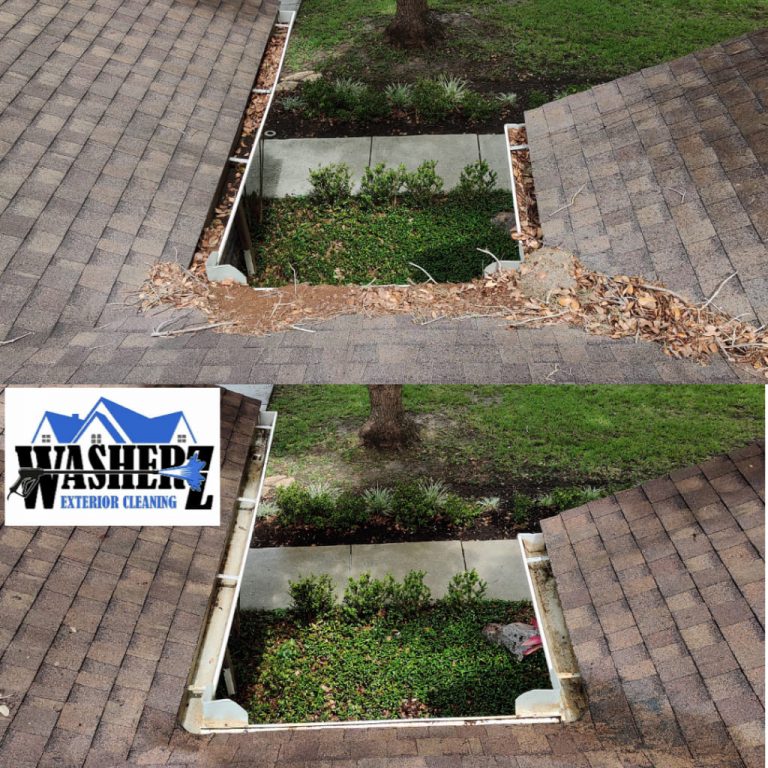 Frequently Asked Questions - Answered By WASHERZ Exterior Cleaning
Don't let clogged gutters put your home at risk. Ensure the safety and longevity of your property with our expert gutter cleaning services at WASHERZ Exterior Cleaning. Let us clear away debris, leaves, and obstructions, ensuring your gutters function flawlessly. Protect your investment and avoid costly repairs down the line. Schedule your gutter cleaning service today – click below or call us now to take the first step in safeguarding your home. Choose WASHERZ Exterior Cleaning for peace of mind and well-maintained property.
Regular gutter cleaning is vital because it prevents debris buildup, ensuring your gutters function correctly. When gutters are clogged with leaves, twigs, and dirt, they can't effectively redirect rainwater away from your home. This can lead to water damage, foundation problems, and even roof leaks.
Neglecting gutter maintenance can result in several issues. Clogged gutters can overflow, causing water to pool around your home's foundation. Over time, this can lead to cracks, erosion, and even basement flooding. Additionally, debris-laden gutters can cause roof leaks and damage to the siding.
Gutter guards are designed to reduce the amount of debris that enters your gutters. While they can be effective in decreasing the frequency of cleanings, they may not entirely eliminate the need for maintenance. Some debris can still accumulate on top of or get through gutter guards, requiring occasional cleaning or maintenance.
There are several signs that indicate your gutters need cleaning, including overflowing gutters during rainfall, water pooling around your home's foundation, sagging or visibly damaged gutters, and the presence of plant growth or weeds in the gutters. Regular inspections, especially before and after the rainy season, can help identify these issues and prompt timely cleaning.
WASHERZ Exterior Cleaning is your trusted, locally-owned solution for all your gutter cleaning needs in the picturesque city of Lakeland, Florida. Our company takes immense pride in being an integral part of the community, providing high-quality gutter cleaning services that cater to the unique needs of Lakeland's diverse properties. As a locally-owned business, we understand the importance of maintaining the beauty and integrity of our hometown's homes and commercial spaces.
What sets us apart at WASHERZ Exterior Cleaning is our deep-rooted commitment to our community. We are not just a faceless corporation; we are your neighbors, friends, and fellow Lakeland residents. This local connection fuels our dedication to delivering top-notch gutter cleaning services that exceed your expectations. We understand the distinct challenges posed by Lakeland's climate and environment, and our expertise is tailored to address these specific concerns. When you choose WASHERZ Exterior Cleaning, you're choosing a company that genuinely cares about the well-being and appearance of Lakeland, one property at a time.

Contact us today to schedule your gutter cleaning service and let us show you the local care and expertise that sets us apart. Your home deserves the best – choose WASHERZ Exterior Cleaning for a cleaner, safer Lakeland. Don't wait; reach out to us now to discuss your gutter cleaning needs.
Maintains a clean and appealing exterior.
Regular gutter cleaning reduces wear and tear.
Removes nesting spots, reducing pest infestations.
CALL TODAY FOR QUALITY GUTTER CLEANING SERVICES IN LAKELAND AND THE SURROUNDING AREAS!