Why WASHERZ Exterior Cleaning?
TOP-RATED ROOF CLEANING IN LAKELAND!
Is the sight of moss, algae, and unsightly stains on your roof diminishing the curb appeal of your Lakeland home? Look no further than WASHERZ Exterior Cleaning for a comprehensive roof cleaning solution that will revitalize your property's appearance and protect its longevity.
WASHERZ Exterior Cleaning stands as the undisputed leader in roof cleaning services in the Lakeland area. Our dedicated team of experts is well-versed in the delicate art of roof cleaning. We understand that your roof isn't just a protective shield for your home; it's a statement of your property's character. That's why we bring our wealth of experience and cutting-edge technology to bear, ensuring your roof regains its pristine condition and keeps it looking spectacular for years to come.
Say farewell to the persistent presence of moss, algae, and stains on your roof, and embrace a cleaner, more attractive exterior. Let WASHERZ Exterior Cleaning be your trusted partner in transforming your Lakeland home into a source of pride and admiration within the community. Contact us today to schedule your roof cleaning service and experience the unmatched quality and expertise that only WASHERZ Exterior Cleaning can deliver.
Roof Cleaning in Lakeland, FL
Roof cleaning services is a crucial aspect of property maintenance that often goes overlooked. Over time, roofs can accumulate a layer of dirt, algae, moss, and other organic debris. This buildup not only affects the appearance of the property but can also cause damage to the roof's structure and lead to potential leaks and water infiltration. Regular roof cleaning is essential to remove these contaminants and ensure the longevity and efficiency of your roof.
Softwashing uses low-pressure water combined with specially formulated cleaning solutions to gently remove algae, moss, and stains without causing any damage. This technique not only cleans the surface but also includes an application of an algae-inhibiting solution to prevent future growth and keep the roof cleaner for longer. Regular roof cleaning not only protects your investment but also contributes to a healthier, more attractive, and more durable property. A clean roof significantly enhances the overall appearance of the property, giving it a well-maintained and fresh look.
Gentle Roof Cleaning Is The Safest Way To Thoroughly Wash Your Lakeland Rooftop
Rescue your roof from unpleasant algae streaks and other grime with professional roof cleaning from WASHERZ Exterior Cleaning! We are Lakeland's most trusted pressure washing company, and no one delivers a better roof cleaning treatment than our technicians!
At WASHERZ Exterior Cleaning, we know how much you value your home, and we understand better than anyone what our climate puts your exterior surfaces through. That's part of the reason people always depend on our team for pressure washing in Lakeland, and it doesn't hurt that we have outstanding customer service, honest and affordable prices, and we always deliver spectacular results! WASHERZ Exterior Cleaning will never cut corners when it comes to roof cleaning or any of our other professional services, and our experienced specialists will always prioritize the safe, careful treatment of your property. When you need dependable roof cleaning in the Lakeland area, choose the company that will always treat you right– call WASHERZ Exterior Cleaning!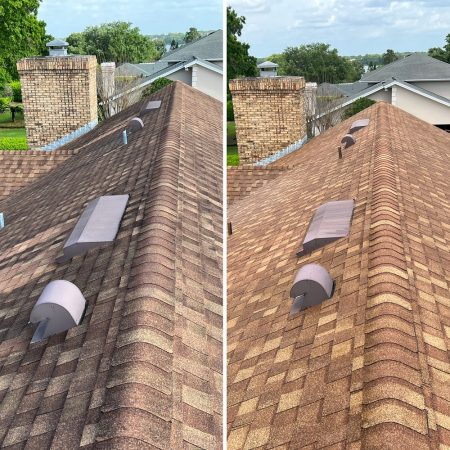 Roof Cleaning By Experienced Professionals
Your roof is tough and meant to withstand everything that our Florida weather can throw at it, but it can't do its job of protecting you without a bit of protection of its own. Roof cleaning is the essential maintenance your roof needs to keep away water damage and to continue to shield your home from the elements. WASHERZ Exterior Cleaning is the expert pressure washing company you can count on to give your roof shingles the deep clean they need, and when we're on the job, you can bet that our pros will stop at nothing until your roof is spotless!
WASHERZ Exterior Cleaning uses the low-pressure washing method known as soft washing for our roof cleaning service. Unlike standard pressure washing that can dislodge shingles and damage your roofing materials, soft washing takes a more gentle approach to cleaning but still delivers a powerful punch. Soft washing uses a more robust mixture of concentrated cleaning solutions that quickly break apart substances such as:
With our roof cleaning service, your roof will look better than ever and last you for a lot longer! Look at our professional roof cleaning as an investment in keeping your roof durable and beautiful. Clean shingles do a better job of preventing your home from overheating, and once they're free from any attaching substances, they're much less likely to need repair or replacement in the near
Be Sure To Check Out Our Other Pressure Washing Services Too
 Roof cleaning is only one of our fortes, and if you'd like to give your entire property a pressure washing makeover, then we're the company for you! WASHERZ Exterior Cleaning is your source for all your pressure washing needs. Give our pros a call today and ask for a free estimate on such outstanding services, including:
 Get the best treatment and care for your exterior surfaces by calling the pressure washing experts at WASHERZ Exterior Cleaning today!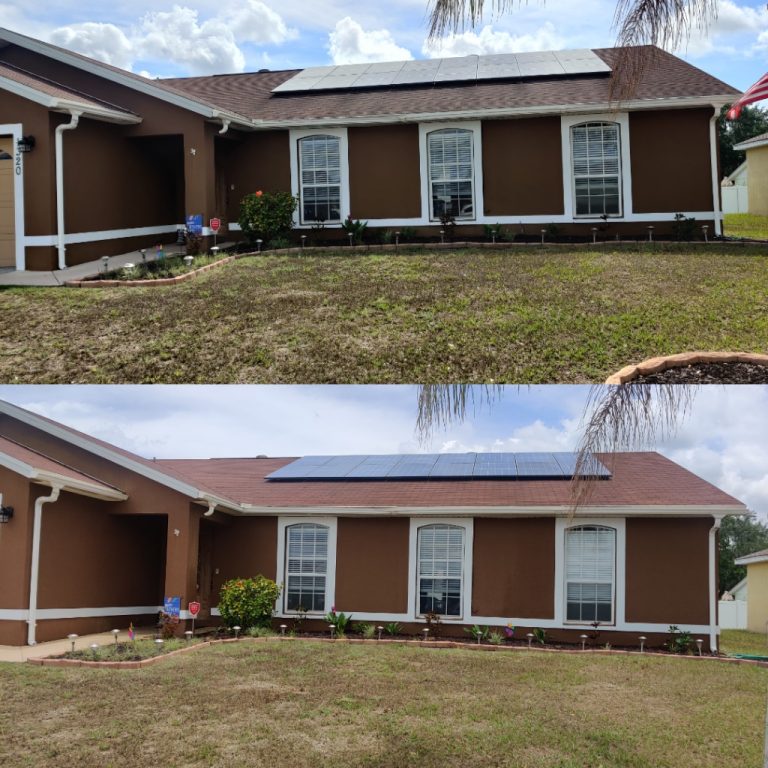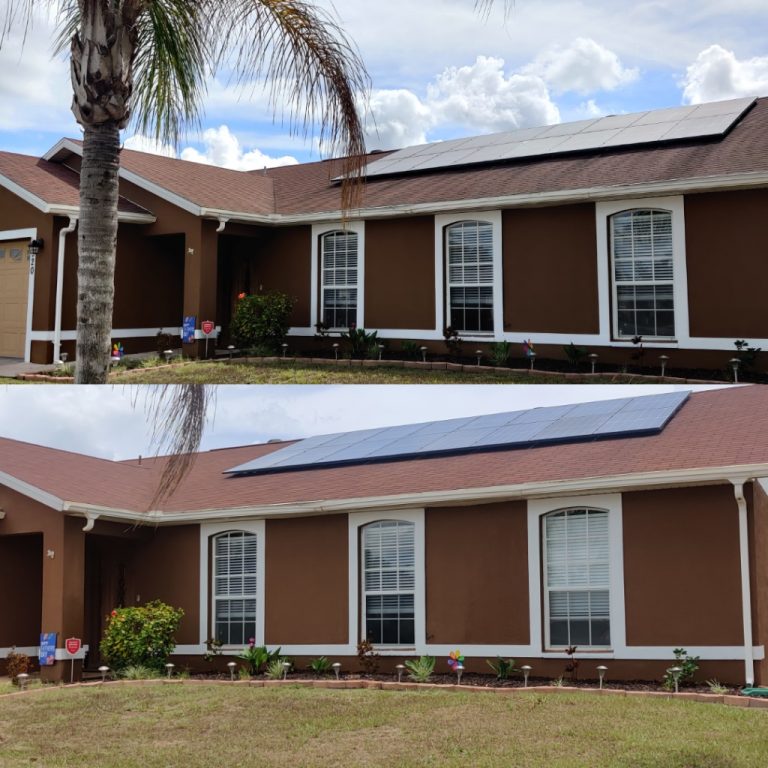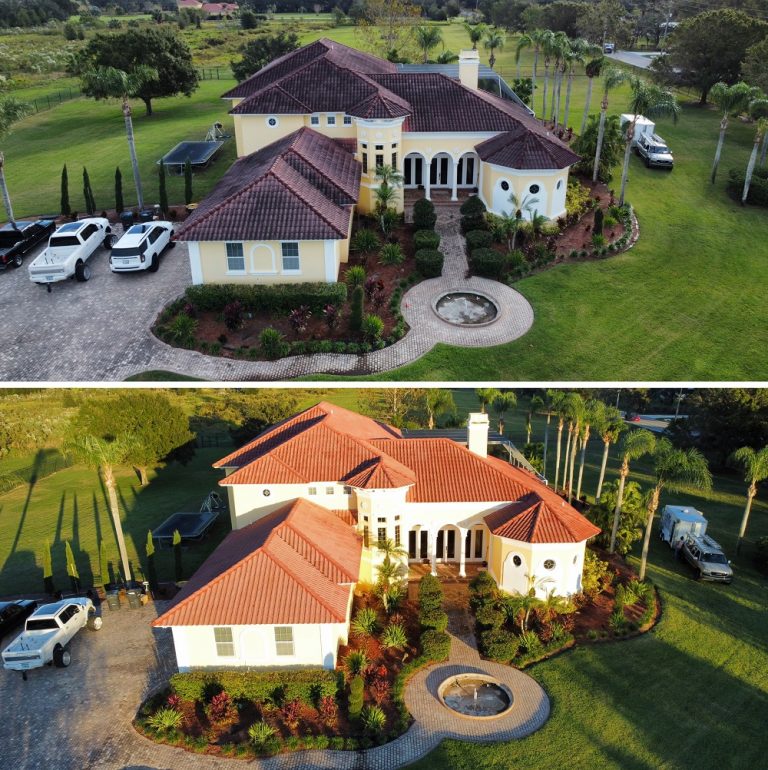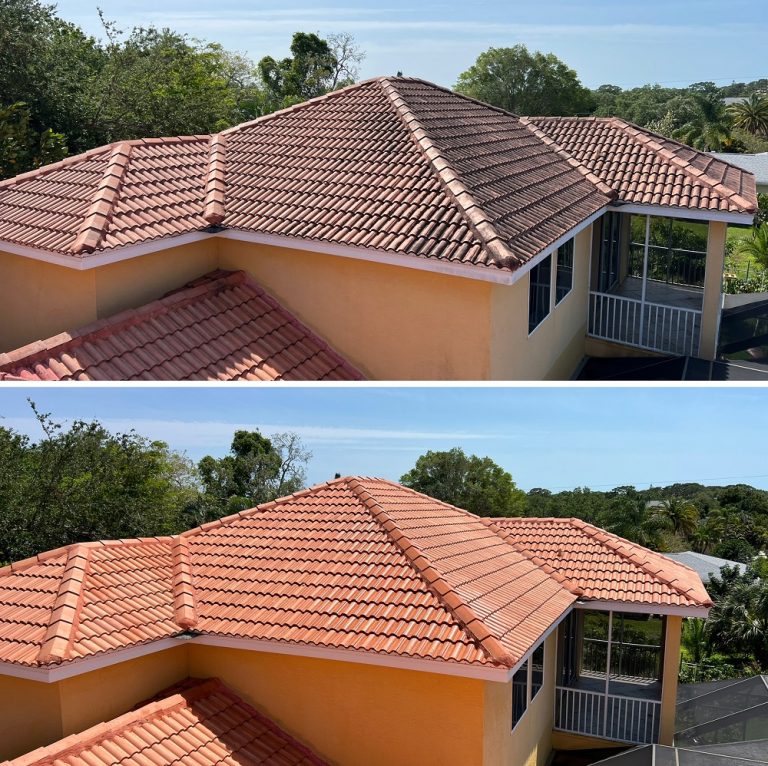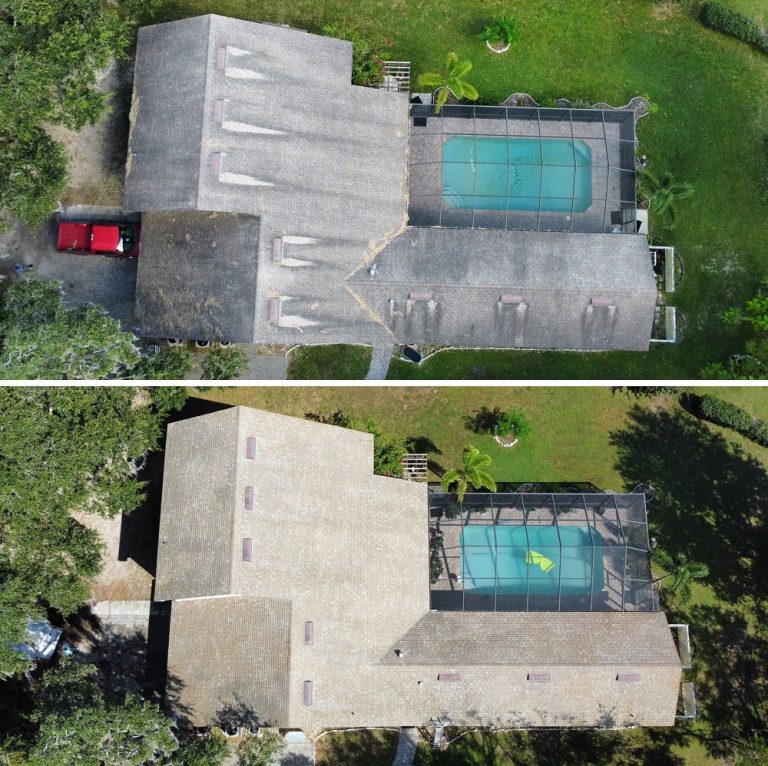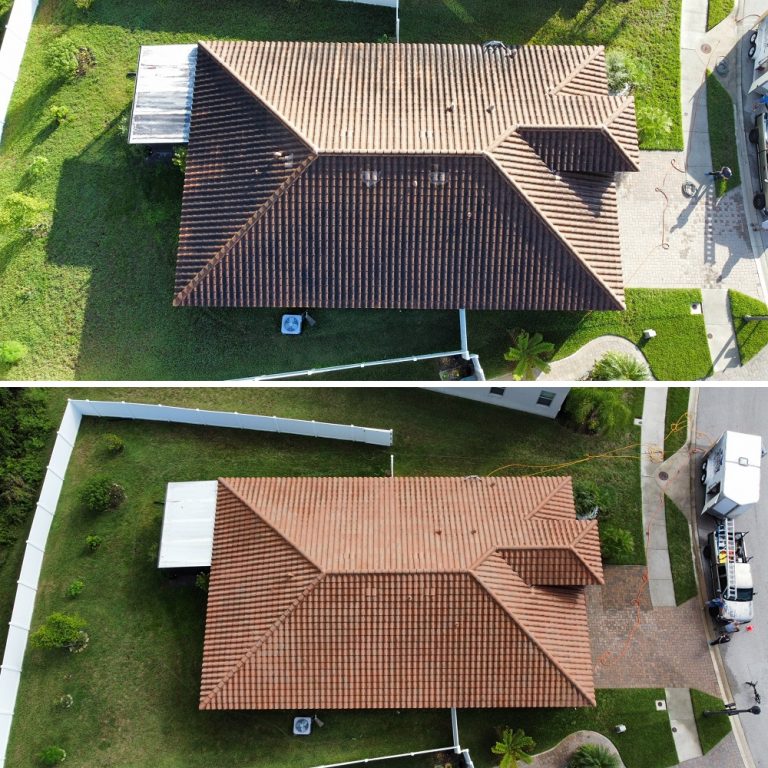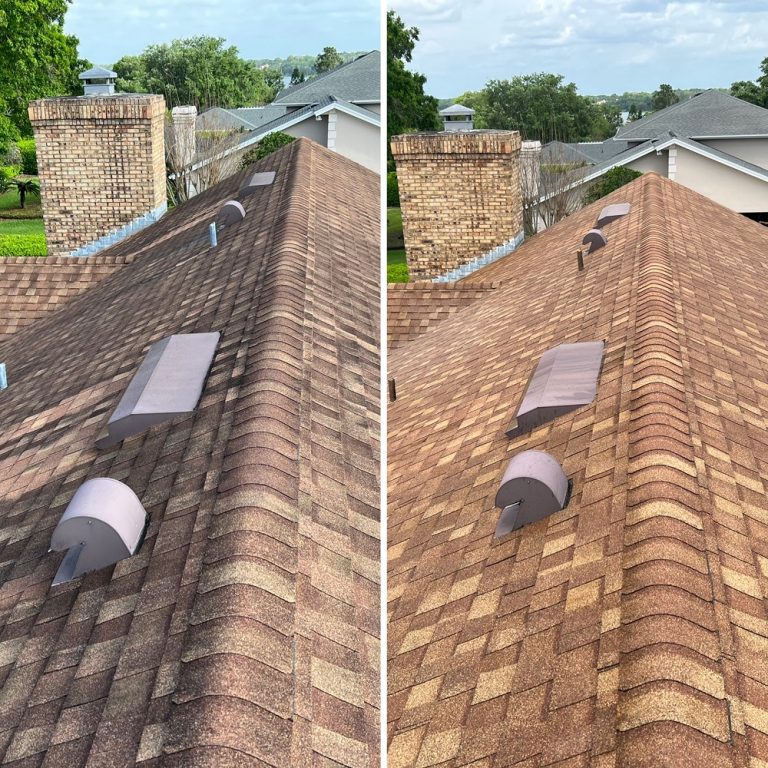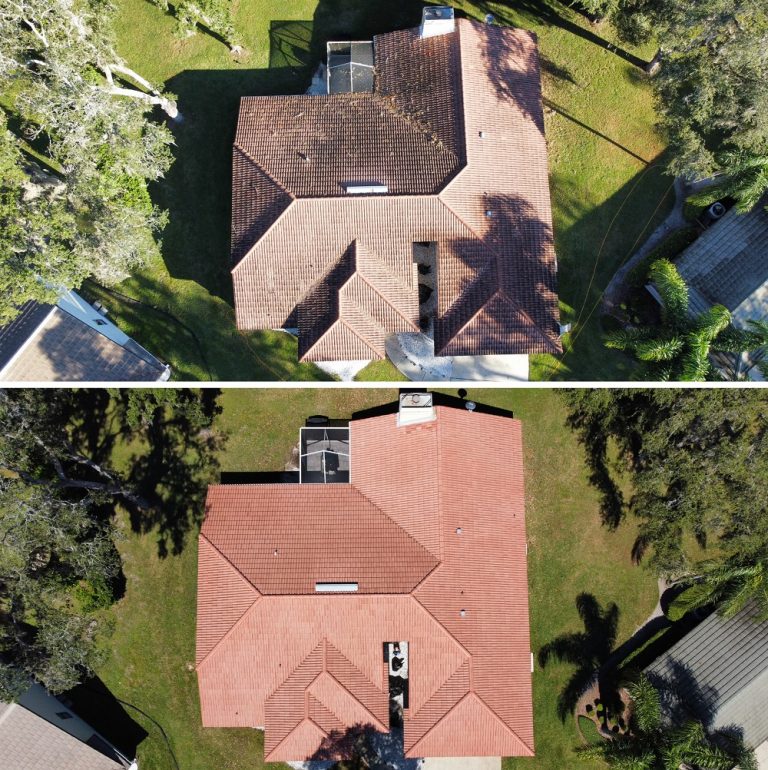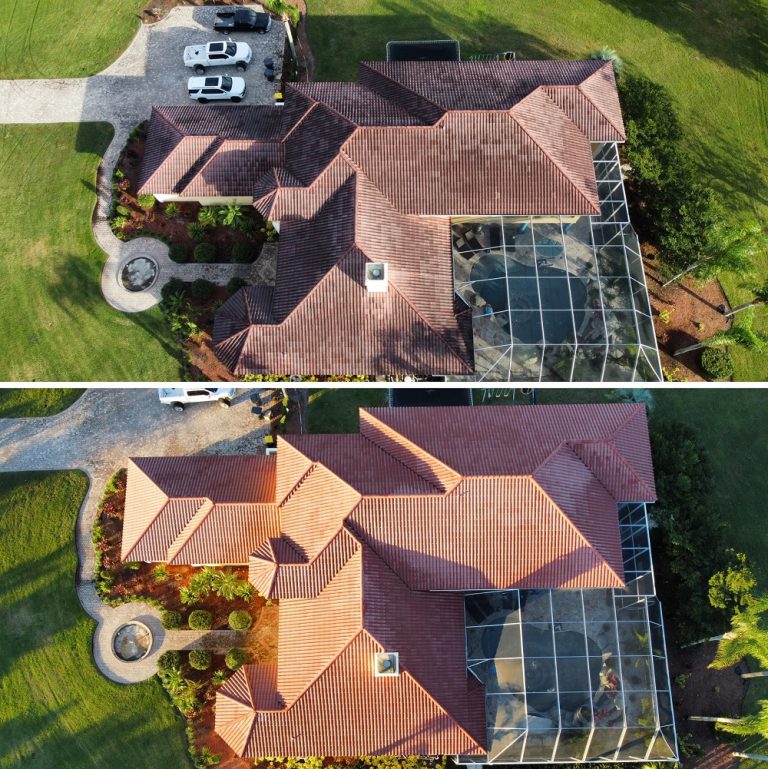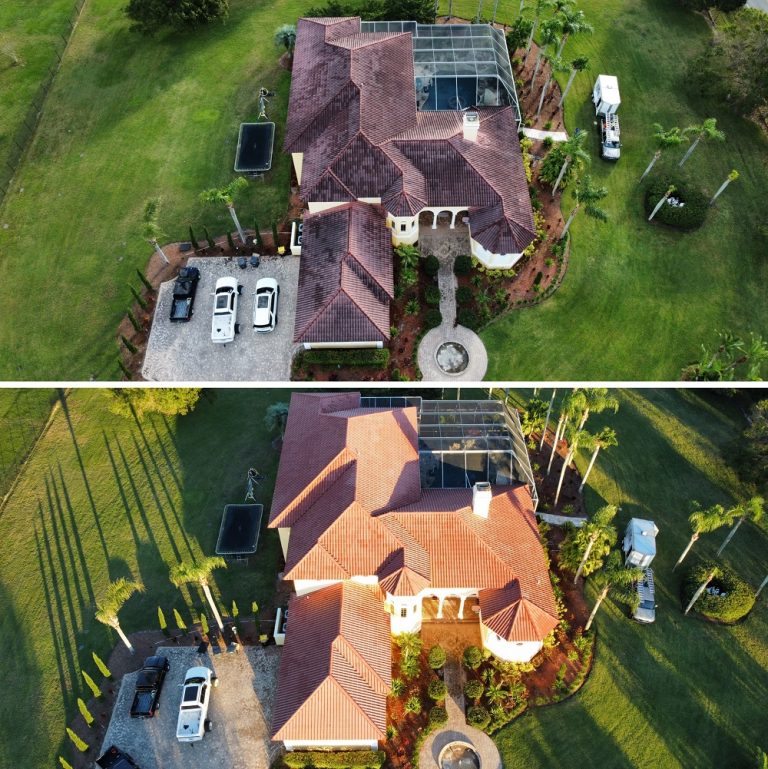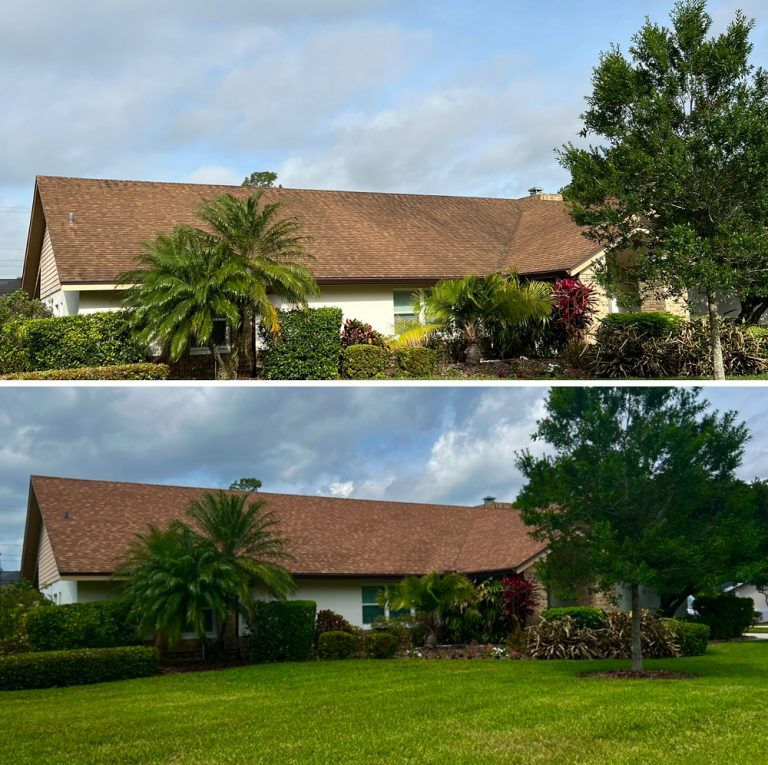 Frequently Asked Questions - Answered By WASHERZ Exterior Cleaning
Ready to give your Lakeland home's roof the makeover it deserves? Contact WASHERZ Exterior Cleaning today for expert roof cleaning services that will restore its beauty and prolong its life. Don't let moss, algae, or stains detract from your property's curb appeal. Click the button below or call us now to schedule your roof cleaning service and discover the transformative difference we can make for your home. Your roof deserves the best – choose WASHERZ Exterior Cleaning.
Regular roof cleaning is essential to remove dirt, algae, moss, and debris that can accumulate over time. These contaminants not only affect the appearance but can also cause damage to the roof's structure and lead to potential leaks and water infiltration. Cleaning helps prolong the life of your roof and prevents costly repairs in the future.
Roof cleaning can be done during most seasons, but it is generally better to avoid cleaning during extreme weather conditions like freezing temperatures or heavy rain. Spring and fall are ideal times for roof cleaning as they offer mild weather and remove debris from seasonal elements.
Yes, a clean roof with no algae or moss buildup reflects more sunlight, keeping your home cooler during hot weather. This improved energy efficiency can help lower cooling costs and reduce the strain on your HVAC system.
The frequency of roof cleaning depends on factors like your location, climate, and the level of contamination. In most cases, a thorough roof cleaning is recommended once every 1-3 years. However, areas with more shade or high humidity may require more frequent cleaning.
with Washerz Exterior Cleaning, you can avoid these issues and ensure your roof remains in top-notch condition. Our professional softwashing services are tailored specifically for roof cleaning, using low-pressure water and eco-friendly cleaning solutions to safely and effectively remove algae, moss, dirt, and stains. By regularly scheduling roof cleaning services with us, you can prolong the life of your roof, prevent costly repairs, and maintain its structural integrity.
Our experienced team knows how to handle various roofing materials with care, ensuring that no damage occurs during the cleaning process. We are equipped with the latest tools and techniques to reach every nook and cranny of your roof, leaving it looking pristine and rejuvenated. Don't wait for problems to arise; let Washerz Exterior Cleaning take care of your roof and ensure it remains a durable and attractive asset for your property. Trust us to deliver exceptional service and help you maintain a clean, healthy, and well-maintained home or business.
Prevents water damage and costly repairs.
Prevents algae and moss growth for longer-lasting results.
Prevents structural damage and maintains roof strength.
CALL TODAY FOR QUALITY ROOF CLEANING SERVICES IN LAKELAND AND THE SURROUNDING AREAS!